Video for Web, DVD and Broadcast
HighMark Video is the video service of IDS Interactive.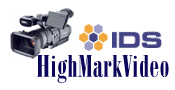 More and more, clients are requesting video for their websites. As cable-TV and DSL have become widely available, web users are increasingly looking for video content, especially in for product demonstrations and how-to instruction. Visual presentations are often much more easy to understand and the information is more well-retained. Add to this the rapid growth of smartphone usage worldwide, and video becomes more important every day.
This increasing demand presents an opportunity for businesses. It is now possible to use video to communicate things that website visitors typically find inconvenient, ineffective, or too time consuming to grasp by reading. These include understanding complex processes, product demonstrations, trade show presentations, training, and more.
Opportunities also exist for using legacy video, usually produced in tape formats. Existing video that is still useful can be digitized and repurposed for web or DVD delivery.
IDS Interactive can deliver video in all popular web and smartphone formats, as well as DVD and Blu-Ray, and video for broadcast.
IDS provides the following video services:
Preparation of existing video for web delivery
Video compression
Converting video from analog (tape) to digital
Video editing
Interactive DVD/Blu-Ray authoring
Video production, including on-site video recording

View examples of our work on YouTube
More …
Contact us to learn more about video and digital content »